THE STUDY
Technical and legal assistance for the purchase of rolling stock for the BRT in Amiens
CLIENT
Amiens metropolitan authority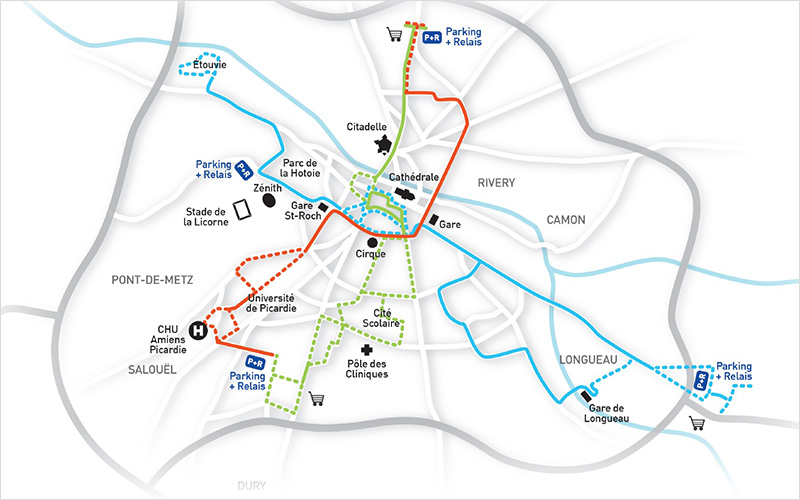 presentation
The Goal of the Amiens metropolitan authority's Amétis 2.0 project is to start up a restructured, modernised and intermodal network in March 2019, organised around four BRT lines.
The vehicles on the BRT lines will meet the requirements of the 2015 law on the energy transition. Therefore, the Amiens metropolitan authority is looking to acquire a fleet of some 40 electric buses. The lines, measuring about 10 kilometres, will be equipped with quick-charging systems at each terminus. The total cost of the project is €100 M.
Our mission covered the preliminary studies, the drafting of the tender enquiry, the bid process (for the rolling stock and the recharging systems in the stations and the depot), the commissioning phase and the end of the warranty period.
Challenges
The goal of the mission for the Amiens metropolitan authority was to guarantee:
the continued improvement of the Amétis network, with the opening of four BRT lines to speed up mobility in the area,
the availability of attractive, modern and high-performance vehicles that meet the requirements of sustainable development for the residents of Amiens and visitors.
Deliverables
Preliminary studies
Assistance with the drafting of the tender enquiry
Assistance with the call for tender
Assistance with engineering and construction
Assistance with acceptance and trials
Support in the general warranty phase
Key expertise
Project management
Sources of funding
Analysis of the industrial context
Operability analysis
Regulatory requirements
Definition of the rolling stock and the charging systems
Energy balance sheet
Monitoring of the development of the vehicles and the charging infrastructures
Legal assistance
Types of contracts
Development of the depot, access ways and networks
Maintenance requirements