THE STUDY
Development of a dynamic microsimulation model for the Sydney CDB & South East Light Rail tram network.
TYPE OF MISSION
Technical assistance for Transdev
TOOLS
VISSIM
Autocad
Excel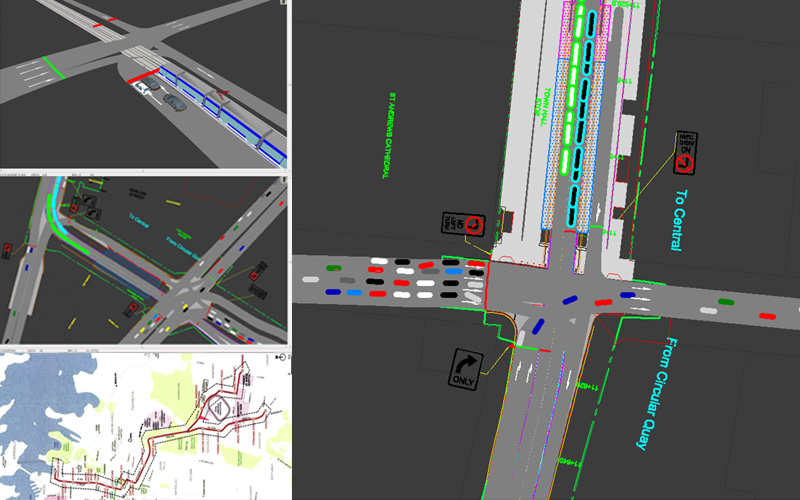 Presentation
This mission consisted of responding to the call for tender for the design, construction and operation of the new tram network in Sydney, the Sydney CDB & South East Light Rail (SDELR), by a Public-private partnership (PPP). Transamo's general engineering unit assisted Transdev, which was part of the ALTRAC Light Rail consortium, including Transdev, Alstom, Acciona and Capella Capital.
Goal of the mission
The goal of the mission was to determine the journey times and the regularity of the new line by developing an ad hoc dynamic microsimulation model with VISSI.
Methodology
The model covered the 13 kilometres and the 24 crossroads on the new tram line. The following input data was used to develop the model:
the geometry of the rail and road infrastructure,
the characteristics of the rolling stock,
the traffic flows in the sector,
the signals at the crossroads (including the right of way for public transport),
the planned operations on the future tram line and on all the means of public transport in the sector.
Results
The results of the model, which took the form of quantified data and instructive 3D animations, illustrated the operations on the tram line at peak times and its interactions with the crossroads.
By processing the data from repeated simulations, the journey times and the regularity of the line could be estimated at peak times. We also estimated the impacts of the crossroads on the line (percentage of total green lights for the tram line).