THE STUDY
Study upgrades to the Iékawé route to improve bus travel
PROJECT OWNER
SMTU (Syndicat Mixte des Transports Urbains du Grand Nouméa)
TOOLS
Illustrator
Autocad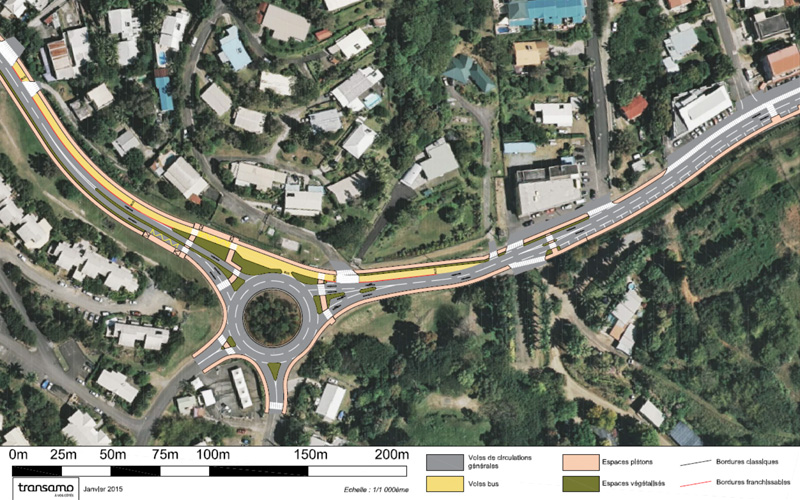 Presentation
Syndicat Mixte des Transports du Grand Nouméa (SMTU) commissioned TRANSAMO to carry out a study designed to propose improvements to benefit public transport on the Jacques Iékawé route, one of the main arteries into the city centre.
Aim of the mission
The mission consisted of suggesting upgrades to improve bus travel conditions on the route, and to deal with traffic trouble spots.
Services
The study was conducted in three phases.
An initial data analysis phase: traffic censuses, journey times, boarding/alighting counts
A field phase to identify bottlenecks and observe how the route works
A production phase to draft improvement proposals and to cost the proposed operations.
Conduct of the mission
We met the various stakeholders (bus network operator, the Nouméa city and Province Sud authorities). These discussions identified each stakeholder's constraints, allowing us to propose solutions best suited to the local context.
Results
Improvements were proposed for the entire 6.5 km route. Some of the improvements will be included in SMTU's 2015 budget.
Comments
The final report was accompanied by a 1/1000 scale map showing the proposed improvements. The study report presents all of the improvements, with justifications for the proposals and details of their operation.