THE STUDY
Production of an annual report on the observation of mobility in the department, compiling the monitoring of indicators, analyses and recommendations.
COMMISSIONING AUTHORITY
Syndicat Mixte des Transports en Commun de l'Oise (SMTCO)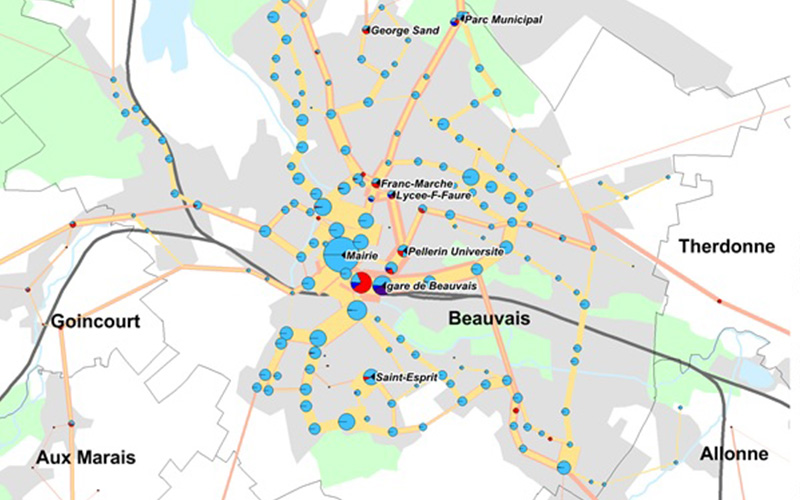 Presentation
Under the terms of a PPP between the SMTCO and Cityway for the period 2014-2024, providing for the deployment of a transport on demand unit and a global ticketing system for all the networks in the department, Transamo was tasked with the "Mobility Observatory" mission, consisting of retrieving and using data, centralised in the form of an annual report containing the tracking of indicators, analyses and recommendations to optimise inter-modality.
Goal of the mission
The goal of the mission is to produce an annual mobility observation report that provides the SMTCO with a clear vision of mobility in the department, plus a list of recommendations in favour of inter-modality for the various transport organisations.
Deliverables
The mission can be broken down into three main parts:
Using the large quantities of data from the department's 17 networks sent to the Oise Site branch: data on the offer, validated tickets, searches for itineraries, complaints, car-sharing, etc. This data is used to put the global indicators into perspective on a network-wide scale (V/K, service rate in the department, etc.).
Conduct cartographic analyses and compare the data in order to identify the main issues in terms of service and inter-modality.
Draw up a list of recommendations that the SMTCO can forward to the transport operators in the department.
Execution of the mission
Each year, the mission comprises three phases:
January to March: collection and processing of the preceding year's data,
March to May: analyses and production of version 1 of the report,
May to July: discussions with the SMTCO to produce the final version of the annual report.