THE STUDY
Analysis of the regional rail services costs in Picardy
COMMISSIONING AUTHORITY
Picardy, France
EXECUTION
CFTA (agent)
Subcontractors: Transamo
TOOLS
GOAL software: presentation/graphical software
INPUT DATA
The 2015 SNCF Réseaux database of slots with the allocation of trains
Composition of the trains
Regional express trains agreements and appendices
Orders matrix
Technical fact sheets of the infrastructure
Organisation of the operator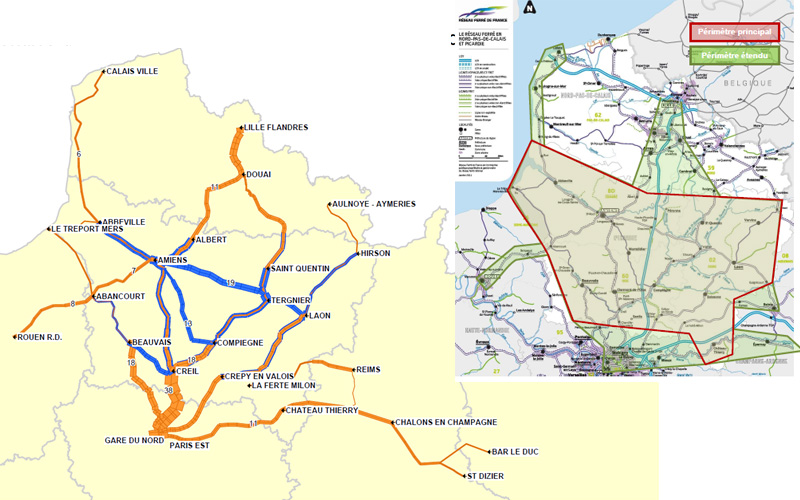 Presentation
In its role as a transport authority, the Picardy regional council makes high investments in regional transport. The new agreement for 2013-2018 with SNCF concentrates on the improvement of the quality of service and the separation of risks between income-related risks for the regional council and operability risks for SNCF. Against this backdrop, the regional council wanted more information on the precise breakdown of the regional express train service cost to propose means of optimisation in a situation of deep changes affecting the railways.
The goals of the mission
For the Picardy regional council, the main goal was to optimise the cost of regional rail transport. This mission also aimed to:
cost the ordered service by reconstituting the quote made in 2015 on the basis of a breakdown into work packages,
identify the technical, organisational, contractual and financial measures to optimise the delivering cost of the service,
to offer help, advice and expert input for the regional council in its discussions with SNCF.
Deliverables
The Picardy regional council wanted to address three timeframes: 2015, 2016 and 2017. Consequently, the mission was accomplished as follows:
Phase 1: Costing of the Picardy regional express train transport plan (2015):
Reconstitution of the 2015 quote (reference timeframe),
Comparison with the 2015 quote,
Possible discussion of the results with SNCF.
Phase 2: Optimisation of the transport service in 2016 and 2017:
The service year 2016 will be used to estimate the optimisation that is possible in the short term (phase 2A),
The service year 2017 will be used to optimise the service in the medium term (phase 2B).
Results
The study is currently in progress. Phase 1 will be completed in September 2015.