THE STUDY
Assistance for the commissioning authority with the renewal of an agreement covering the operation of regional rail services between the Provence-Alpes-Côte d'Azur regional authority and the SNCF.
COMMISSIONING AUTHORITY
Provence-Alpes-Côte d'Azur regional council
EXECUTION
Transamo
Co-contractor:
MBO-MBC
Subcontractors:
Deligeo
INPUT DATA
The 2006-2017 contract and all its appendices
Order matrix for 2017-2018
Social regulation of the SNCF (RH077)
Administrative accounts
FC12K, meters, core indicators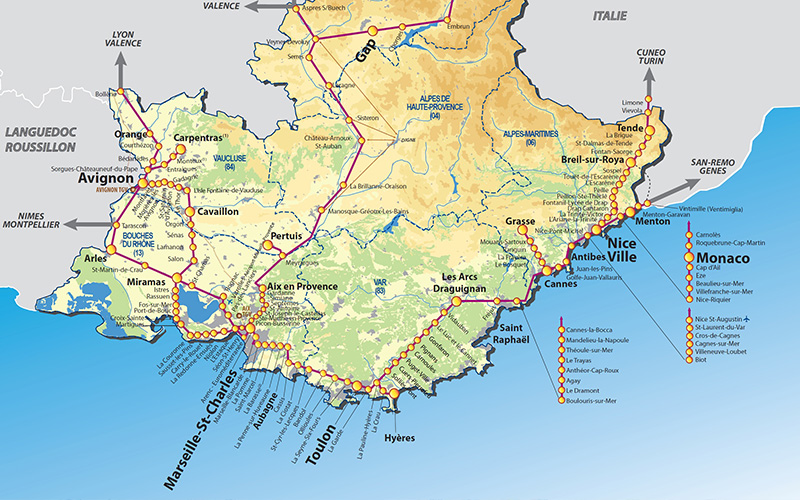 Presentation
As a transport organisation, the Provence-Alpes-Côte d'Azur regional council called on SNCF to operate regional rail services until 31 December 2016. The regional authority launched the process to renew this operations contract against the particular backdrop of major legislative and institutional changes.
The regional council issued a call for assistance in three work packages: financial, legal and technical, including the coordination of the mission with the other two packages.
The goals of the mission
The goal of the mission was to help the regional council to draw up a new agreement that:
is coherent with the authority's vision of regional transport,
integrates the institutional and legislative changes (e.g., freedom of pricing),
makes the operator responsible and incites improvements in the quality of service,
allows for the simple and effective monitoring of production and the quality of service.
Our deliverables
Transamo's mission consisted of providing technical assistance for:
the production of a technical review and an overall summary of the 2007-2016 contract in the following areas:

rail offer,
rolling stock,
pricing policy,
services in stations,
distribution,
security and the fight against fraud,
inter-modality,
institutional and commercial communications,

fixing of the service outlines,
the technical contribution to the production of the draft contract (sensitivity tests).
The mission was completed by the coordination with the financial and legal work packages in order to produce a summary of the information and a coherent draft agreement.