THE STUDY
Mobility organisation Traffic forecasts and restructuring of the Järfälla – Upplands Brö bus network (suburbs of Stockholm)
COMMISSIONING AUTHORITY
Transdev Sweden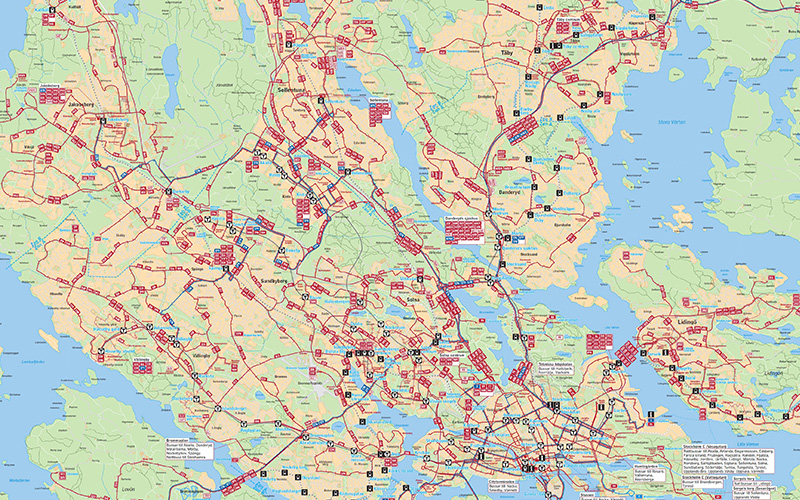 Context and issues
Storstockholms Lokaltrafik (SL), the transport organising authority in the Stockholm region, issued a call for the operation of a bus network in Upplands Bro / Järfälla for the period 2016/2024.
In this call for tender, a significant share of the operator's income was determined by the number of passengers using the lines. Therefore, an accurate estimate of the numbers of passengers on the bus lines between 2016 and 2024 and in-depth discussions of the network developments (in particular in view of the arrival of the underground in the district), were essential for Transdev Sweden in order to prepare its bid.
Deliverables
Transamo played multiple roles in this technical assistance mission:
Supervise the traffic modelling studies by WSP (a Swedish engineering bureau) and check the coherency of the results,
Lead discussions on the restructuring of network according to different timelines: the start of the contract (2016), the improvement of the frequency of suburban trains (2018) and the arrival of the metro in this district (2022),
Form the link between local Transdev teams based in Stockholm and the group's head office in Paris,
Process data on passenger volumes and on the offer so that it can be integrated in the framework determined by SL.
Results
Transamo's intervention to assist Transdev Sweden between January and July 2015 allowed for appropriate proposals to restructure the network in support of the growth of the population and employment and the development of the public transport offer in the sector. It also enabled Transdev to commit to contractual passenger forecasts with the organising authority.
Comments
All the meetings and documents in this international study were in English.
Our staff also used and analysed documents supplied by SL in Swedish.