THE STUDY
Optimisation of regional express train services in Aquitaine
COMMISSIONING AUTHORITY
The Aquitaine regional council
EXECUTION
Transamo (agent)
Echofer (subcontractor)
CFTA (subcontractor)
TOOLS
Excel
Access
Mapinfo
Railway operations software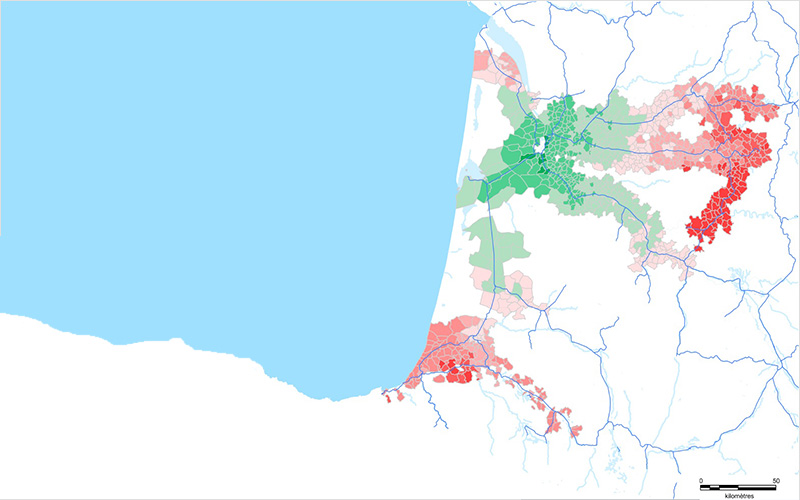 Presentation
As the organising authority of regional transport, the Aquitaine regional council pursues an ambitious and structural rail policy.
Aquitaine is developing apace, with a number of large-scale rail infrastructure projects. This study contributed to an effort to control public spending and meet the operational imperatives of the schedule to prepare the 2017 service hours. It also provided input for the discussions between the region and the SNCF/TER rail operator on the definition of the 24-hour timetable and the request for the allocation of capacity.
Challenges
The goals of the study consisted of:
elaborating the offer scenarios and substantiating the service options by analysing the structure of the demand,
challenging the construction of the timetable in order to identify points where the efficiency of the transport service can be improved,
producing an efficient 2017 service scenario that is economically acceptable for the regional council.
Deliverables
The study took place in a number of phases:
Phase 1: Analysis of the performance of the offer. The goals were to identify the connections to be favoured and the locations to be serviced, specify the frequency and the times of the trains and define the type of service. The method consisted of globally understanding the offer, globally analysing travel and passenger numbers, analysing the correlation between the supply and the demand, analysing the off-loading of the offer in Bordeaux, analysing the financial costs and an initial analysis of the 2017 SA.
Phase 2: Service scenarios
The three service scenarios of the regional express train offer were proposed and analysed using a method consisting of defining the scenarios on the basis of the results of phase 1, calculating the costs and adjusting each scenario by comparing them in a multi-criterion analysis.