THE STUDY
Study of parking at Saint-Nom-La-Bretèche and Noisy-le-Roi stations
COMMISSIONING AUTHORITY
Les Yvelines departmental council
EXECUTION
Transamo (agent)
BVA for the survey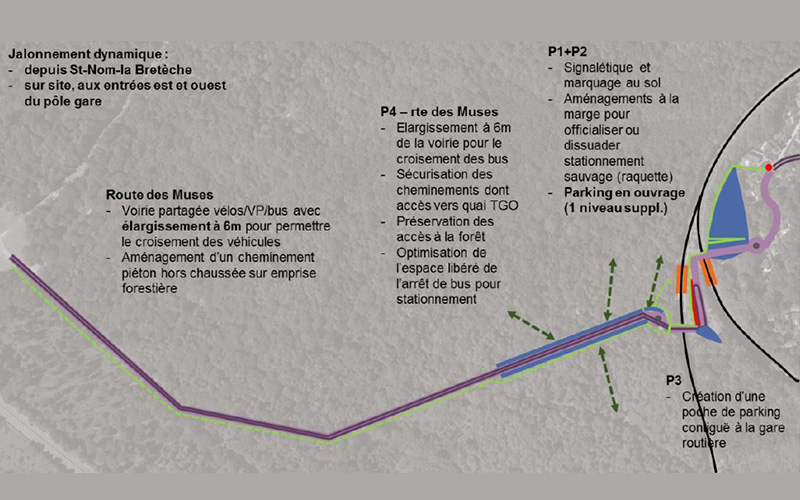 This mission was part of a framework agreement between the Transamo-Rail Concept consortium and the Les Yvelines departmental council on expert appraisals in transport projects in the department.
Presentation
In 2020, Saint-Nom-La-Bretèche and Noisy-le-Roi stations on Line L of the Transilien and its West Circular section will be connected to the tram-train network of the West Tangential (TGO), with connections with Achères, Poissy, St-Germain-en-Laye and St-Cyr.
Faced with the expected rise in traffic in these stations and the already saturated parking offer at St Nom la Bretèche station, the departmental council, which is co-funding the TGO and owns the land where the car parks are built, wants to look into the growth of the need for parking at these two stations.
Goal of the mission
Initially, the goal of this mission is to analyse the organisation and use of the parking facilities at these two stations, in order to assess the current needs and the needs when the TGO (phase 1 and then phase 2) will come into service. Close attention is being paid to the complementarity between these two stations and the other hubs in the region, as well as to the potential on offer from the collective transport networks in terms of feeding these stations.
Then, the goal is to develop parking solutions that meet the identified needs.
Execution of the mission
The first phase was broken down into two steps:
a shared diagnostic, including a regional and functional analysis of the stations, the transport and parking offer and the demand, by making a study of the feeding patterns,
an estimation of the future need for parking spaces.
This first phase revealed the need to increase the parking capacity at Saint-Nom, while improving access by bus. The survey also showed that the rise in demand for parking can be attenuated by charging for the parking spaces. The car park at Noisy-le-Roi represents significant reserve capacity, and will have good connections with St-Nom when the TGO starts up.
The second phase aimed to formulate proposals for St-Nom-la-Bretèche station in order to better organise the parking by improving the bus service and making it more reliable, and by increasing the parking capacity.
Proposed solutions include wider roads, stacked parking, the creation of a new parking area and the dynamic display of information on the approaches and on site.