THE STUDY
Programme Management for the Aulnay Operations Centre for Lines 16 and 17 of the Grand Paris Express.
EXECUTION
Transamo and Edeis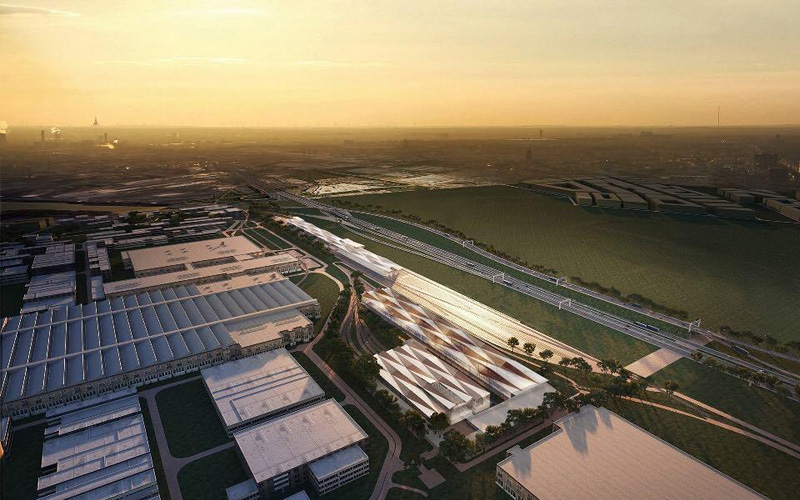 presentation
Located on the former PSA site, close to Lines 16 and 17 of the Grand Paris Express, the Aulnay site will host the SMR/SMI and the common PCC of the two lines.
This facility is essential, because not only does it host the control centre of the two lines in the PCC, but it also makes the underground trains available for their daily operations and maintenance. Its function is to guarantee the availability of the rolling stock by optimising the maintenance process, under the best possible working conditions and to the highest standards of quality, while protecting the safety of the employees.
Goal of the mission
The mission of Programme Management was to update the technical programmes for the pre-project and project studies, and to analyse the design studies with regard to the programme, right from the Drafting mission based on the consultation programme.
Execution of the mission
Take the initial project programme on board
Draw up the detailed technical programme
Develop it into the definitive detailed technical programme, which is the guarantor of the project management until the PRO phase.
Consequently, Transamo was tasked with developing the project programme and updating it at every stage of the project management process, and with monitoring the programme/project compatibility and controlling all changes to the project.
The Programme Management team was also in charge of defining the project's environmental performance objectives and making sure that they were achieved.
It organises and controls the maintenance site project's HQE® certification process.
Results
Drafting phase
Name of the deliverable
Critical analysis file of the initial programme
Proposal of a tool to manage the spaces data sheets
Proposal of a tool to manage the change data sheets
Analysis of the preliminary environmental studies and SGP's QSE approach
Report on the analysis of the Drafting phase/Pre-project-a deliverables
Detailed technical programme, with the assumptions memo and the sizing worksheet
Pre-project phase
Report on the analysis of the APS deliverables
Report on the analysis of the APD/Pre-project-b deliverables
Definitive detailed technical programme, with the assumptions memo and the sizing worksheet

PRO phase
Report on the analysis of the PRO deliverables
Acceptance phase
Preparation of and participation in the audit of works
End-of-operation environmental audit