THE STUDY
Feasibility study for the functional improvement and extension of the Massy multi-modal exchange hub.
COMMISSIONING AUTHORITY
Communauté d'Agglomération Europ' Essonne (CAEE)
AGENT
Transamo Agence JAM&Germe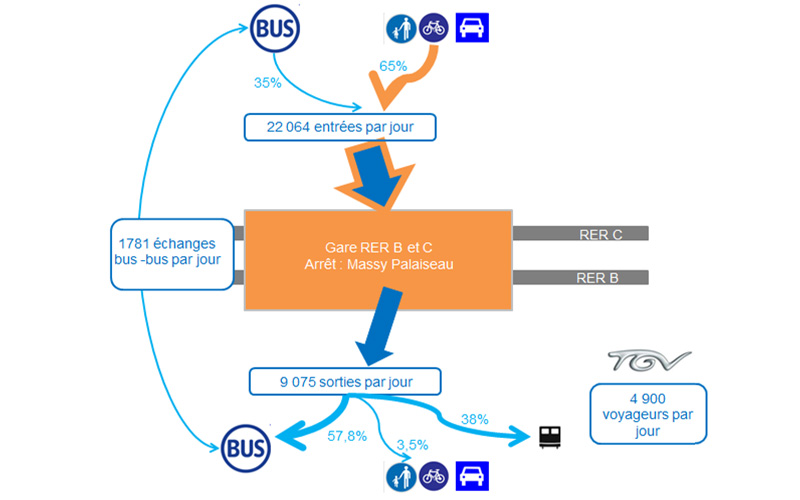 Presentation
Assistance for Communauté d'Agglomération Europ'Essonne with the definition phase of the project for the functional improvement and extension of the Massy-Palaiseau multi-modal exchange hub, simultaneously covering the following aspects:
improvement of the operation of the three bus stations (urban buses, inter-urban buses and collective transport system) on a self-owned site,
improvement of site security,
development scenarios of the hub in anticipation of the sharp rise in traffic expected in the medium term,
the project's technical, regulatory and financial feasibility.
The delivery of the services (in progress) will allow the definition file of the multi-mode exchange hub project to be drawn up in order to launch the project (finding the funding, identification of the commissioning authority, etc.). The selected development scenario will be subject to an L.300-2 public consultation.
Key expertise
Expertise in public transport and inter-modality / exchange hubs,
Urban integration and development of exchange hubs,
Management of projects in complex urban environments: planning, interface management, risk management, etc.,
Consultation / Communication,
Legal expertise in public transport projects,
Operation management: procedures, funding, sequencing of the works, etc.
Deliverables
Coordination of a large number of operators and commissioning authorities in the definition of the needs and the functional shortcomings of the hub: SNCF, RFF, STIF, RATP (RER and bus), Transdev (through its CEAT, Cars d'Orsay, Albatrans subsidiaries), Daniel Meyer, Massy town council, Communauté d'Agglomération Europ'Essonne, Semmassy, etc.
Definition of contrasting development scenarios (in time and in space): proposal of development scenarios that rise to the short, medium and long-term challenges, with sequencing.
Design of an exchange hub that is aligned with the preliminary studies providing for a terminal of a collective bus transport system on owned sites: 1:2000 representation of the selected scenario. Legal and regulatory feasibility. Proposed organisation of the L.300-2 consultation.