THE STUDY
A study of inter-modality in the Pont-de-Bondy and Gare de Bondy station hubs in preparation for the arrival of the Grand Paris Express project.
COMMISSIONING AUTHORITY
EPT Est-Ensemble and CD Seine-Saint-Denis
EXECUTION
Gautier + Conquet
Transamo
CDVia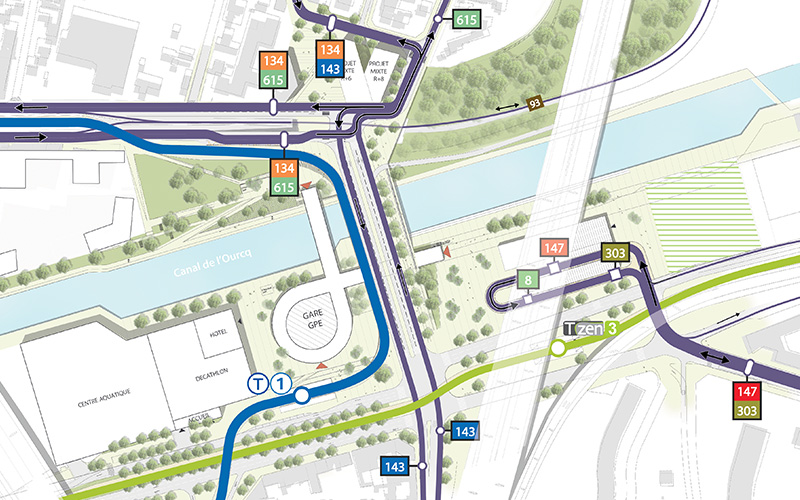 Presentation
As part of the Grand Paris Express (GPE) project, Société du Grand-Paris (SGP) is funding the inter-modality projects proposed by local authorities. By 2030, the Bondy RER and Pont-de-Bondy stations will respectively receive 10,000 and 2,500 incoming passengers every morning.
Goal of the mission
The Gautier Conquet-Transamo grouping, assisted by CDVia, was chosen to conduct the studies of these two hubs. The study proposed different development scenarios. One of these scenarios will be taken forward with a view to entering two formal contracts for the hubs.
Methodology
The diagnostic phase
Interviews with the various stakeholders in the project,
Analysis of the current and planned transport offers,
For Bondy station, an in-depth analysis of parking, based on an analysis of turnover-occupation-respect,
Definition of an inter-modality pre-programme covering all the planned needs of the hub,
Identification of the imperatives, invariables and room for manoeuvre that will enable us to define the areas of intervention that pre-figure the scenarios of each hub.
Elaboration of the scenarios
Definition of the principles applying to the hubs by qualifying their identity,
Elaboration of two to three development scenarios per hub,
Workshops with the stakeholders,
Selection and further development of a scenario: operational and programme development plan
1/1,000th representation of the hub.
Formal definition of the hub projects
Operational sequencing and financial arrangements of the project, as described in detail in the action fact sheets,
Drafting of a hub project.