THE STUDY
Technical assessment of the design studies for Line L16 (sections T1, T5a) and Line L14 north Assessment of the costs and planning
CLIENT
Ile de France Mobilités
EXECUTION
Transamo
Sweco (co-contractor)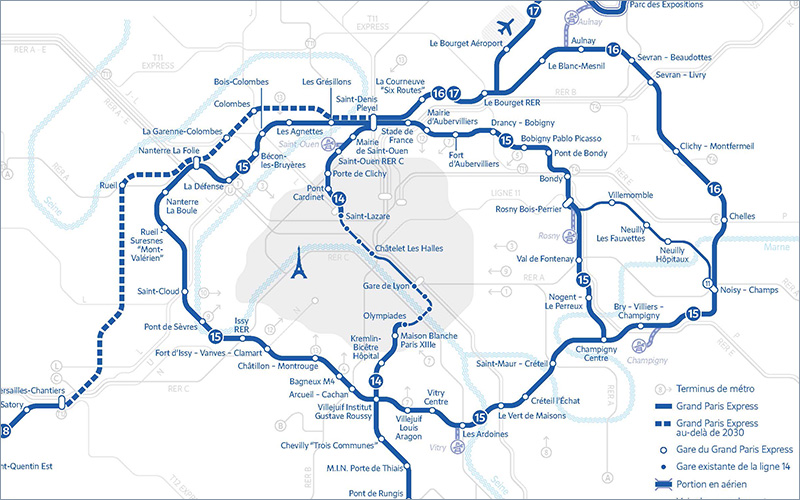 presentation
As part of the overall plans for Grand Paris, Line L16 will link the new Saint-Denis-Pleyel station, which will be one of the largest exchange stations, with Lines L14, L15 and L16/17, as far as Noisy-Champs station, in connection with Line L15 south.
Goal of the mission
To provide Ile de France Mobilités with an objective assessment of the studies that will be discussed with the two commissioning authorities, SGP (Société du Grand Paris) and SNCF (Mobilité et Réseaux).
Challenges
The project is managed by two commissioning authorities – SGP for the underground and the SNCF for the connections and associated works – and is worth almost €4 billion. As the future controller of the infrastructures and a stakeholder in the funding of the project, Ile de France Mobilités wants to be sure of the completeness and technical feasibility, and the reliability of the costs and timetable. The mission produced a critical analysis of the studies and formulated paths of improvement for the subsequent phases, while always bearing the operability and maintainability of the system in mind.
The mission schedule
Analysis of the design studies: June – September 2016
Meetings with the commissioning authorities, SGP and SNCF: July and September 2016
Distribution of the report to Ile de France Mobilités: September 2016, ready for the vote by Ile de France Mobilités
Deliverables and key expertise
The analysis of the design studies consisted of:
checking that the design studies were complete (deliverables, costs),
checking the compliance of the programme deliverables,
checking the reliability of the costs and schedule,
proposing a critical analysis of the studies,
formulating paths of improvement for the subsequent phases.
Sweco was tasked with:
civil engineering (tunnels, ancillary structures, spill ways)
of the SNCF connections
and stations.
Transamo was tasked with managing the mission and the systems:
maintenance and storage site and equipment,
rolling stock (commercial and maintenance vehicles),
tracks, power supply and energy,
platform façades,
tunnel and station equipment, including firefighting and public safety, ventilation and smoke extraction, water drainage and drawing systems, escalators and lifts, lighting, HVAC, access control, etc.,
control centre, centralised control systems and automatic train operation systems,
telecommunications systems (radio, RMS, 4G, etc.),
ticketing,
traveller information,
etc.